Hereford to Aberystwyth Sponsored bike ride
What a fantastic weekend had by all!
Article from Hereford Times reads: "Ride out for ELY"
The name of the County charity was taken on the road when a team of cyclists from around Herefordshire completed a 100 mile cycle challenge. The 50 strong team - made up of Belfour Beatty Living Places colleagues as well as others from around the county - spent two days cycling from Hereford to Aberystwyth to raise funds for ELY. Steve Jay, Charity Trustee, a close family friend and event organiser for the weekend, said: "Everyone enjoyed it so much we want to do it again next years and will encourage other people to do it. The team camped overnight in Rhayader enjoying a BBQ prepared by the back crew of Balfour Beatty. Sunday morning started with a hearty breakfast at Ty Morag's and around 10.15am the cyclists started their last leg of 40 miles to Aberystwyth. They challenge the Elan Valley hills through to Devil's Bridge then onwards to their final destination - Morrison's car park! A huge welcome relief to many of the cyclists.
ELY Committee thank Steve Jay for organising such a wonderful event, all the back up crew of Balfour Beatty Living Places, RMS, Lafarge Tarmac and RMS for their help and kind sponsor. Last but not least, to all the cyclists who gave up their weekend to raise funds for ELY and it's profile to help families in Herefordshire by offering a one-off condolence gift of £2,000 towards a basic funeral for their son or daughter aged between 17 to 25 years if they are tragically killed in a car accident.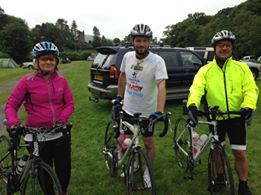 Saturday 27th & Sunday 28th June 2015
Overnight camp near Rhayader
Certificates for all who complete the challenge
Ride information
The ride will start in Hereford around 10am on Saturday 27th June. We will travel along quiet country lanes wherever possible for around 50 miles until we reach our overnight campsite near the Welsh town of Rhayader.
After a hearty BBQ and a few drinks the second day through the picturesque Elan Valley (40 miles) should be a breeze!
The route will be waymarked so no-one will get lost, with back up vehicles just in case anyone needs any assistance. All levels of cyclists welcome, including teenage family members who are able cyclists. Training runs to be arranged shortly.
For more information email steve.jay@bblivingplaces.com